As I thought about writing a review, I couldn't help but feel a little self-conscious. Have I done enough to warrant one? Is it worth reading by anyone else? Who knows :-) I'm willing to give this a go if only to get back into the swing of writing again, though. So, how did it go and what did I learn?
Blogging is tricky
By that, I mean it takes an awful lot of dedication. When I had more time, it wasn't so difficult but as things have picked up at work and I have had other things to occupy myself outside of that, it has proved quite hard to stay on top of. If I do have one resolution for this year, it's that I must stay on top of my writing. I want a successful blog and many others that I respect have repeatedly said something to the effect of: "it's a long slog, but don't give up". So, I won't :-)
Focus
The kinds of things I write about are quite eclectic. The funny thing is, I know that a focussed blog is more likely to be a successful blog, but I am not sure I want to do that. Of course, I don't mean have a successful blog - I mean be a one-trick-blog. I like to write about what interests me or about things that I have had problems with. Since my interests zip and zag in so many directions, I want to keep doing that. Publish and be damned (or ignored…)
Growth is a Slow Climb
Before I started blogging in earnest in 2015, I think I had hardly any visitors. That was OK, because I had hardly any posts either, but what about now? Here's a graph of how many visits and repeat visits on a quarterly basis for 2015.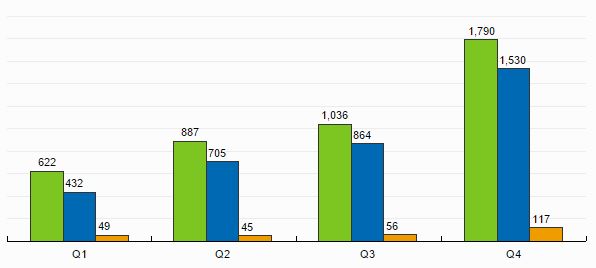 Green bars are total page views with the blue ones being new visits. Orange are repeat offenders! You can see that it slopes upwards, which can't hurt, but really, the boost came in the last quarter. Hmm. Why? I slowed my blogging right down and in fact, in November and December, I don't think there were any posts. How about monthly?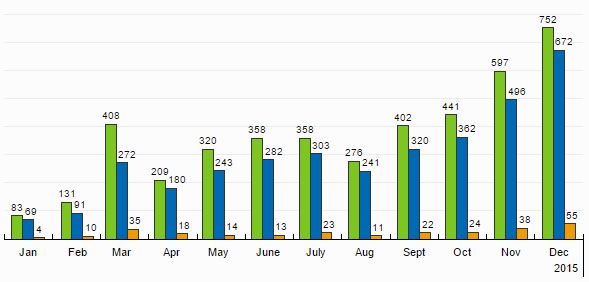 That's a bit more revealing. You can see a spike in March, it drops, bounces up, drops again and then steadily climbs. Who'd have thought blogging was a metaphor for roller coasters? Well, the March data point is easy - I had one of my posts re-tweeted by John Sonmez (I should see if there are more opportunities for that kind of thing). April marked an improvement in numbers on February before peaking in June and July. A dip for August might have been everyone taking a well earned holiday, but what about since? My guess is that the speed of my website improved. I found out that good old 1&1 had left me on an old package which didn't match what was being offered to new customers. They fixed that after an email but what a shame they hadn't contacted me and pro-actively told me I could be doing better for the same money?
Popular Articles
I vaguely remember reading about how an old post Scott Hanselman wrote has been massively popular and despite it being from years ago, still gets lots of hits. Well, my surprise post was this one about dealing with Pluralsight buffering problems. Who would have guessed? It turns out that it is really high in the rankings should you search for things like: "pluralsight buffering". Other popular ones have been my JavaScript ones. Again, I wouldn't have guessed - lucky I plan on writing a few more of those! I don't have any all time scores but here's what some of December looked like for posts and totals, to give a flavour.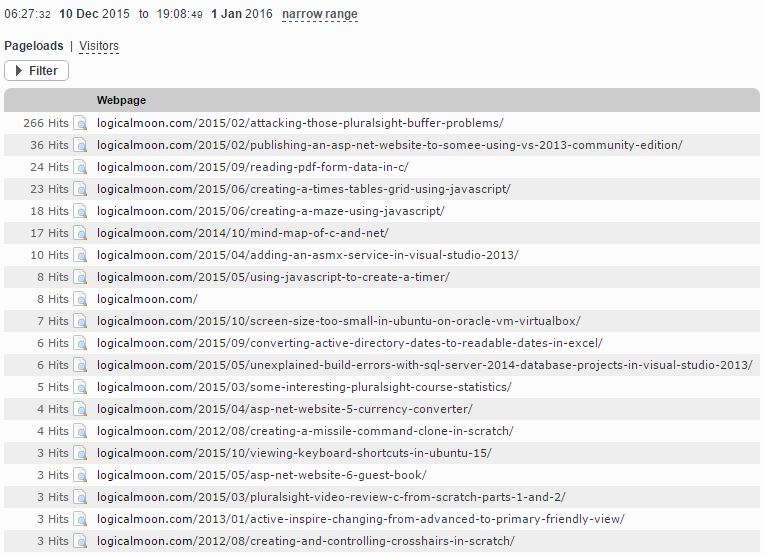 Post Count
This is one statistic I did care about because I really wanted to reach a magic number of posts by the end of the year. Really?…maybe not, because otherwise I would have done it, but I did pay close attention to how many things I had written each month. Here are the numbers: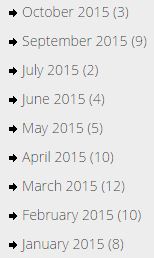 Sadly after October, things dwindled, but I had some good months, especially at the beginning of the year. Still, the total was 63 which is more than one per week, if spread out like some soft butter. This is (a lack of) consistency laid bare…:-)
A Change in Career
Another big change was me changing from teaching (for good!) to IT. That's been a good move and I really enjoy my new job and career.
Goals for Next Year
OK, without getting too adventurous, what do I want to achieve this year.
I think 8 per month would be a good amount. I could write a couple each weekend.
Reach 100 posts by the end of 2016.
Can you guess what my magic yearly number was earlier in this post? At 8 per month, that makes 96 in the year. A couple more squeezed in gives me the round century.
Try to improve my writing.
A tricky one to be SMART about. Writing is something I enjoy but is definitely an area I need to keep working on. I have some plans for books so this will help enormously with that. …so, there you goL one review done. And was it useful? I guess besides myself, this might be interesting for others starting blogs, but regardless…#1 for 2016 is firmly in the bag. Until the next post!
---
Hi! Did you find this useful or interesting? I have an email list coming soon, but in the meantime, if you ready anything you fancy chatting about, I would love to hear from you. You can contact me here or at stephen 'at' logicalmoon.com