How to Set Up Information Management Policies - Sharepoint 2010 Style
Are you trying to set up Information Management policies in Sharepoint 2010 and finding that they just won't seem to work, no matter how hard you try? That's the problem I had after reading a whole slew of blog posts and following the directions step by step. In short, the problem might be that your timer jobs aren't running and therefore the policies aren't being applied.
To begin, take a look at this article which explains succinctly how to do some of the preparation. After that, you should be in a position where you have enabled the document retention policies:

But also added a policy to your list (or document library):

In my case, it was for a list, but that isn't all that important. The next step is to head over to the timer jobs and that's where I will step in because I struggled to find any documentation which told me which jobs exactly I needed to run.
Step one is to go to the Central Administration for your farm where you should click on Monitoring and then Review job definitions.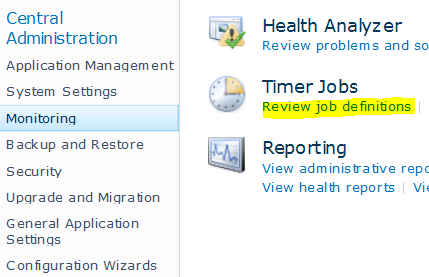 Here, you will find a long list of jobs. You may need to filter it and for me (and my set up), I needed to make sure I was looking at the correct web application by using the drop-downs in the top-right.

In that lovely long list (alliteration at its best), you should see the following two items (highlighted):

Can you see how they are being run weekly? Some documentation you will find might say it is daily (and it might be) but this is telling you how things really are. So, in this case, despite me having my policies set up, I wasn't actually applying them.
For each item, click on it and then press the Run Now button.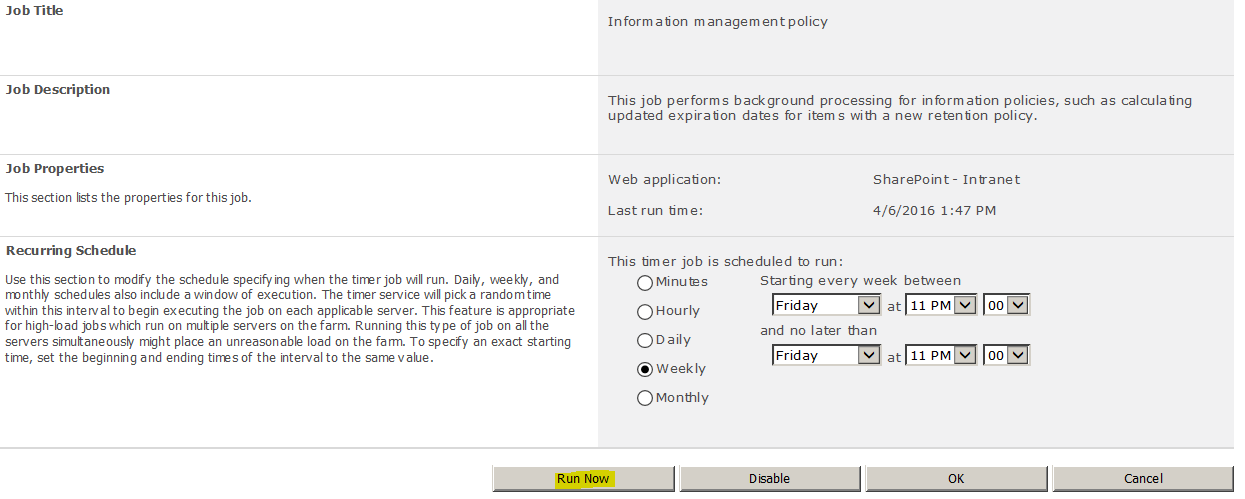 What caught me out was that there are in fact two jobs – one named Information Management Policy and the other, Expiration Policy. I kept running the former and ignoring the latter, hence none of my dated deletions (I must stop this!) occurred. So, hopefully by following these steps, you should have your policies purring nicely.
Hope that helps :-)
---
Hi! Did you find this useful or interesting? I have an email list coming soon, but in the meantime, if you ready anything you fancy chatting about, I would love to hear from you. You can contact me here or at stephen 'at' logicalmoon.com