Prolific USB to Serial Driver Fun
I've got an old Garmin E Trex H which, whilst being a little old in the tooth, still works and gives some great, accurate GPS readings.
The last time I used it though was on Windows 7 and from what I recall, the installation of the serial driver wasn't easy, but I couldn't quite remember why. Fast forward to Windows 10 Pro (64bit) and that didn't get any better!
The problem is that when you connect it to your PC via USB, a driver is installed but that just won't work. Any attempts to use excellent software like easyGPS will fail to acknowledge the COM port which is presented. The solution is pretty simple, if a little unintuitive - you just need to install an older version.
Firstly, go ahead and grab this zip file from Telescript. Unpack that and store it somewhere like your desktop before double clicking on the application to install it.

Now to go to Windows Menu > Settings > Device Manager > Ports This should let you see something like: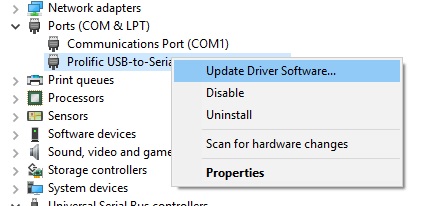 Right click on the highlighted option and choose "Update Driver Software…"
At this point, you are presented with the following screen: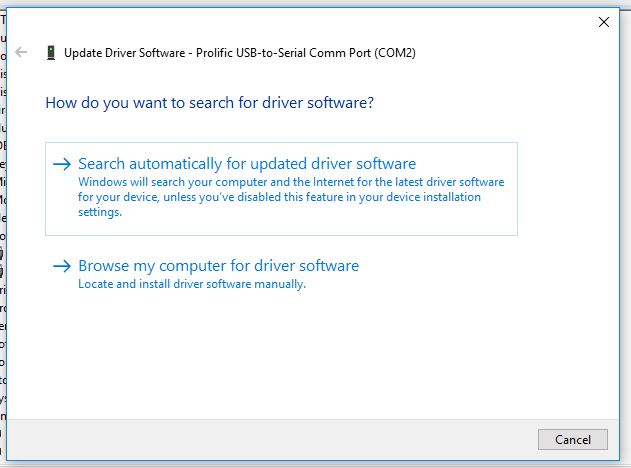 Click on "Browse my computer for driver software" and then "Let me pick from a list of device drivers on my computer". Handily, we just installed one!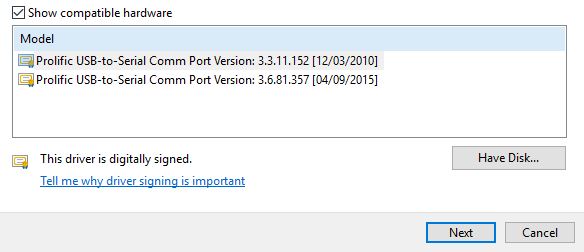 When you see the above screen, choose the version numbered 3.3. As you can see, that is the older of the two. Lastly, click Next and hopefully, should the wind be blowing in the right direction, you ought to see this:

Go back to your favourite GPS software and try that serial connection again - it should work.
---
Hi! Did you find this useful or interesting? I have an email list coming soon, but in the meantime, if you ready anything you fancy chatting about, I would love to hear from you. You can contact me here or at stephen 'at' logicalmoon.com